Read Time:
2 Minute, 5 Second
Drishyam 2015 has been released worldwide on 31st July, 2015. As the movie hits theater everyone seems to be excited about the movie, even we are. And willing to watch the movie Drishyam 2015. Ajay Devgan and Tabu in Lead Role seems to be amazing. Check the Drishyam 2015 Movie Review and Rating before you watch the Movie.
Also Check: Drishyam First Day Box Office Collection
Drishyam 2015 Movie Review and Rating
The movie Drishyam originally is inspired by Japanese crime-writer, Keigo Higashino's novel The Devotion of Suspect X, Drishyam(translates as illusion). Ajay devgan Drishyam is actually a re-make of Malayalam Movie Drishyam, version went on to become a blockbuster, paving the way for copies.
Drishyam Movie Story:
The latest is, Nishikant Kamat's Bollywood adaptation that has adequate promise. The Movie story revolves around the 4th Class school drop-out Vijay Salgaonkar (Ajay Devgan) who lives in Goa with his wife Nandini(Shriya) and their two daughters. He is a movie buff who runs a cable-video business. All in all, Vijay has a blissed-out existence. Till his teenage daughter Anu(Ishita) goes for a inter-school nature camp. There she encounters Sameer Deshmukh(Risabh Chaddha)the son of IG, Meera Deshmukh(Tabu). Sam shoots a video-clip of anu in the shower.
Crafty Sam seeks to trade `favours' from Anu. The teenagers are negotiating when an untoward incident occurs, leaving Anu stumped and her family in a fix. The first half (that could do with a 10-minute trim) feels sluggish, the pace kicks in when Tabu enters.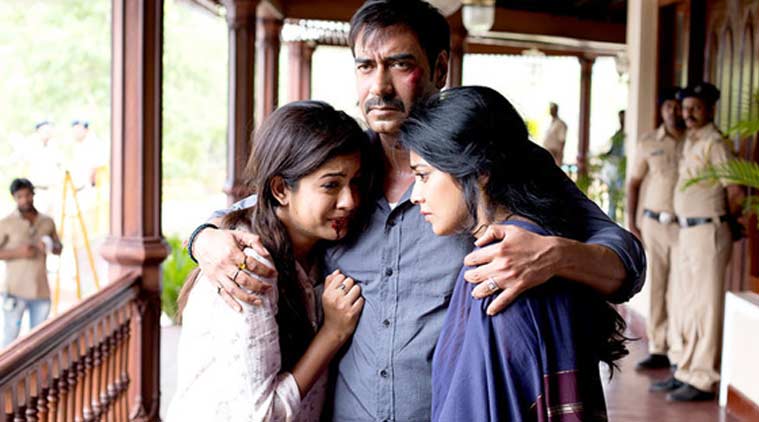 Drishyam Movie Review:
Ajay Devgn is a trifle stilted, but it is good to see him try on a 'character' for size after a long gap. The film, which stays mostly faithful to the original but has a few inserts, could have been better if it had been tighter. The couple of the movie, Ajay Devgan and Shriya Saran, doesn't fit well in the movie. Tabu too is off-and-on, catching the inflection of her tough cop-soft mom sides sometime.  Finally, though, the film holds.
Drishyam Movie Rating:
As the movie seems to go well, the star cast is also effective. And the movie storyline seems to be good. We would rate the movie as 2.5/5.
Drishyam Movie Ratings: 2.5